Overview
TEAM's M-Connect is a web-based platform that enables you to build easy-to-use web or mobile apps to connect internal and/or external stakeholders with your M-Files back-office content and workflows.
M-Connect enables you to extend the reach of your M-Files content and workflows to new audiences, both inside or outside of your organization.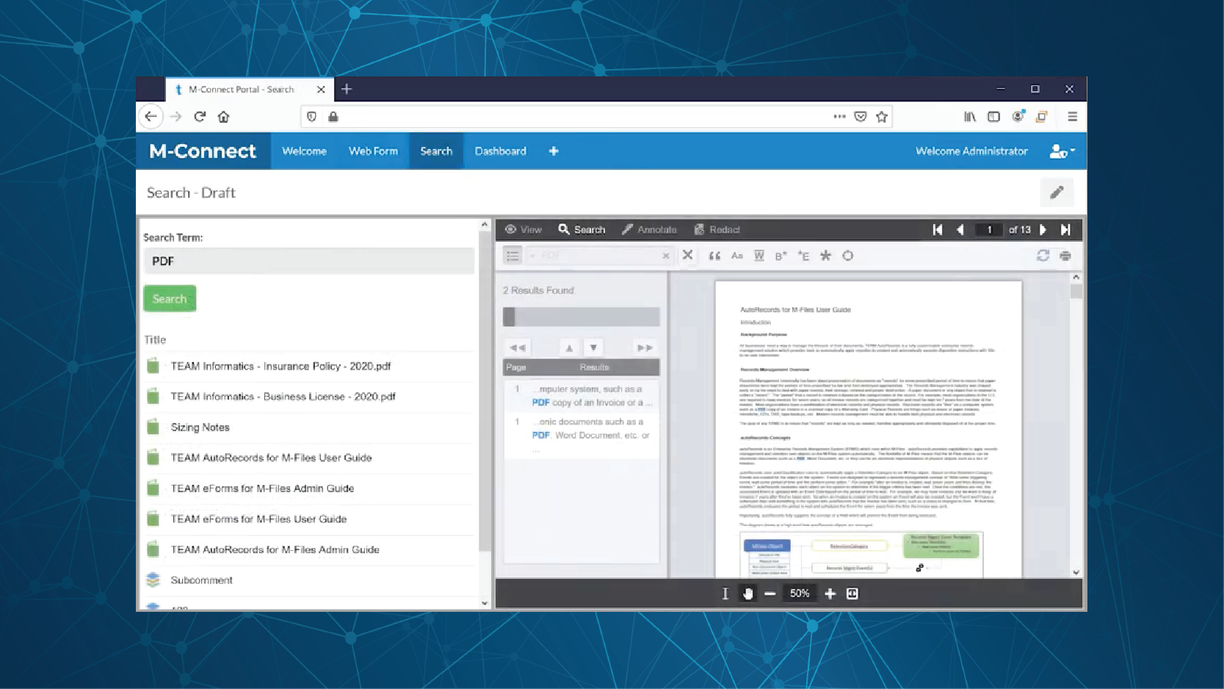 Create engaging content- and process-centric low-code apps, using M-Connect's configurable platform and pre-packaged widgets and components.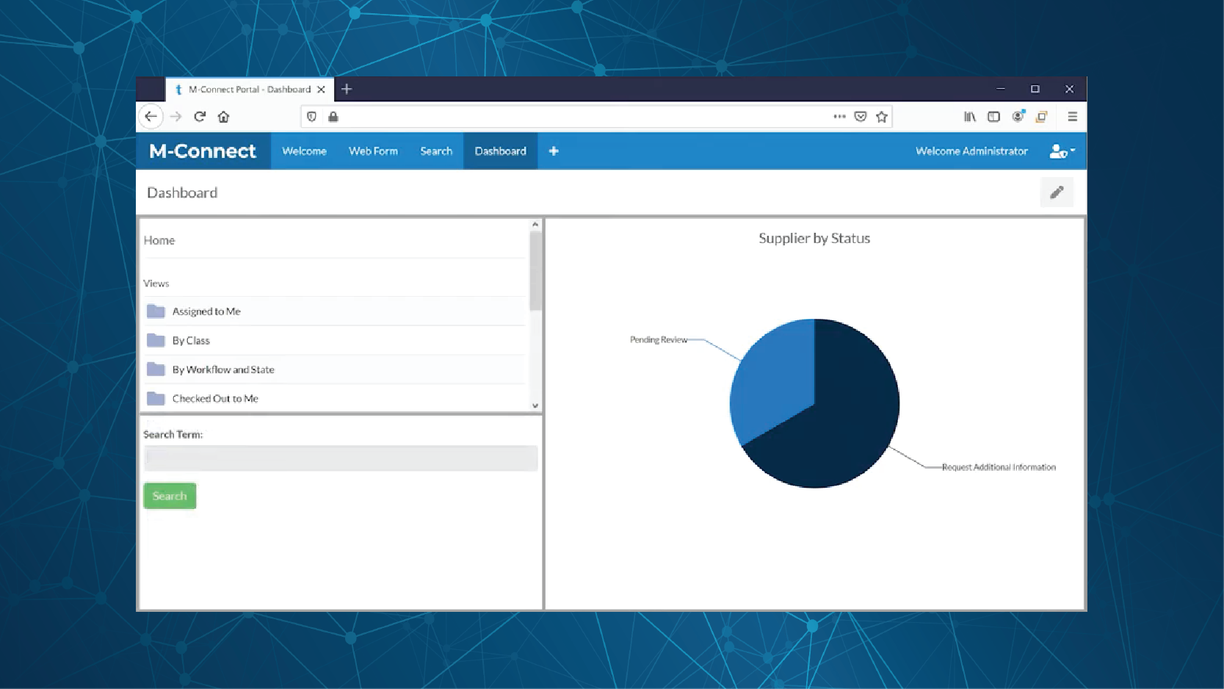 Transform your business by assembling simple, intuitive apps that connect data, processes and documents to your M-Files managed content and workflows.
Use Cases
Application Processing
Automating business processes for external audiences is simple with M-Connect. Enable customers, suppliers and partners to submit applications for financial products, enrollment or memberships with easy to use forms, collaboration and task lists.
Vendor Management
Provide self-service vendor registration and onboarding with M-Connect. Ensure your vendors and partners are compliant and that you have easy access to current certificates of insurance, capability statements and contract history.
Stakeholder Portal
Proactively manage stakeholder relations and collaborate with M-Connect. Ensure your external stakeholders have access to the latest version of documents, and that they can also upload comments and documents for you to manage.
Virtual Data Room (VDR)
Streamline your deal process with M-Connect's Virtual Data Room. Allow secure, seamless sharing of documents between you, the client and your advisors. Easily register users through automated workflows or self-registration.
Dashboards & Reporting
M-Connect's dashboard function allows you and your external audiences to visualize any object or group of objects, their properties, and workflow states, cross-referenced with timelines in rich, easy-to-create graphs and tables.
Field Services
Enable your remote staff to collect data from any location. M-Connect allows you to create an optimized, intuitive user experience for field staff, enabling the capture of new datasets without significant training overheads.
Features
M-Connect is a configurable web-based platform from which any business process can be configured. Out-of-the-box widgets can be assembled to create a modern, easy-to-use and intuitive user experience.
Rich Text Editor
A WYSIWYG text editor gives you the ability to add text for a wide range of purposes. Add instructions for users or your own branding content to inform your audience.
Task List
Add a task list for managing tasks easily with internal and external audiences. Start a task with an object and track it through a workflow process.
Search
Quick Search allows external users to search the associated M-Files vault securely and efficiently. Find the objects that you have access to with speed and accuracy.
Graph & Reporting
Include the ability to configure dynamic graphs and reports that allow you to visualize data about M-Files objects, properties and workflow states combined with counts and timelines.
Dataview
This widget provides a configurable browse experience leveraging M-Files views and facilitating user interaction with objects, properties and content.
Viewer
Give your internal and external users the ability to view, convert, annotate, redact and stamp documents without leaving your M-Connect configured app.
Forms
Create electronic forms from M-Files objects and properties, allowing web-based capture of data properties and creation of associated objects. Forms widget includes ability to define 'hover' help and configure the look and feel.
Metadata
View M-Files metadata. Dynamically obtains the content of the selected item in the search, dataview and (document) viewer widgets on the page to display the metadata of the selected item.
More…
We're working on additional widgets in upcoming releases of M-Connect. These include calendar, image carousel, video/audio player, and additional reporting features. If you have suggestions - we are interested to hear them.